Updated On:
October 23, 2021
No matter how large or small your bathroom may be, custom shower doors can be a very welcomed addition. Rather than sticking to the status quo, designing your own custom shower doors can be an excellent way to make your bathroom look unique and aesthetically pleasing. At GlassCrafters Inc., we help you achieve the look and feel you want while offering a durable and beautifully simple option that's also easy to clean and maintain. That's why we've been serving the NJ, NY, Southern CT, Northern VA, Eastern PA, DE, and Washington DC areas for 25+ years! With that in mind, here is an overview of your custom shower door options at GlassCrafters!
Custom Shower Door Options
Frameless Shower Door Installation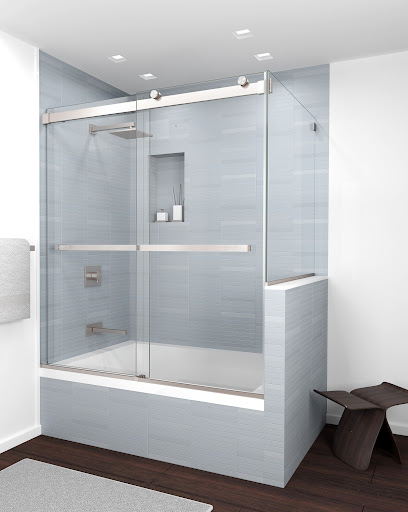 One super modern option for a custom shower door is GlassCrafters' frameless shower door. These frameless doors come with a minimalist design and look great in contemporary bathrooms. They allow bathrooms to look more open and inviting and are known for boosting the overall aesthetic.
Here are your options for frameless shower doors:
Majestic: The Majestic series is highly sought after for many reasons. The superior design of the pivot hinges being located at the top and bottom of the glass allows for no bulky channels and headers at eye level. While the channels and headers still exist on this shower door, they are significantly reduced. This pivot hinge location also allows for larger enclosures and the use of heavier glass. As a result, it is ideal for anyone who wants a custom shower door with a minimalist aesthetic.

Royal: On the other hand, the Royal collection is an alternative frameless shower enclosure for handling heavy glass. These doors feature German-engineered, wall-mount, and glass-to-glass hinges that are of superior design and quality when compared to many other popular brands.

Matrix: The Matrix series offers a modern style with minimal metal construction. It combines technical innovations and world-class engineering to help customers create a luxurious bathroom aesthetic.

Acero Series: The Acero collection provides a minimal geometric design, offering a clean, architectural statement that will take your bathroom decor to the next level.

Equalis: The Equalis series provides frameless functionality and a contemporary, transitional style.
Semi-Frameless Shower Doors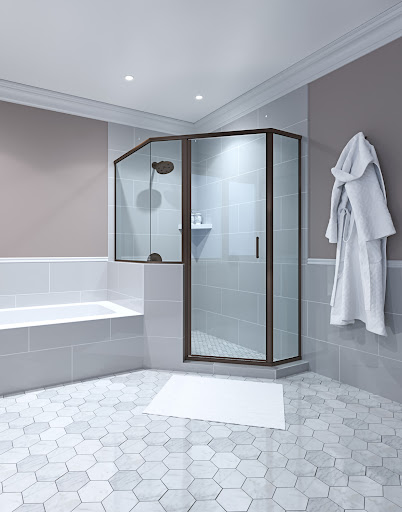 Semi-frameless shower doors offer a clean alternative to bulky aluminum-framed enclosures.
Here are the semi-frameless shower doors you can choose from:
Epic Hinged: These semi-frameless doors include minimal metal and with European and Traditional flair.

Epic By-Pass: On the other hand, the Epic By-Pass offers a sleek design with a smaller, more robust Curved or Flat header. Complete with stainless steel bearing rollers, you can choose from various decorative glass options to make it your own.
Framed Shower Doors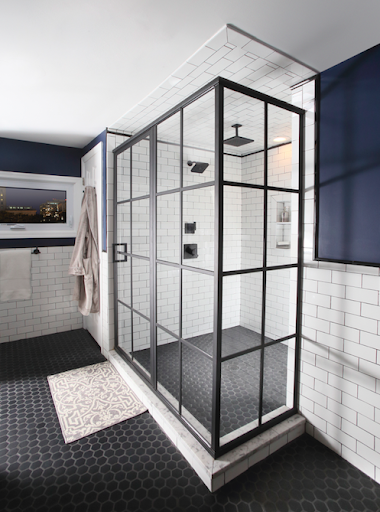 GlassCrafters also offers hand-crafted, solid brass and aluminum luxury framed shower door enclosures. The pure solid brass frames are meticulously plated to complement your bathroom fixtures, whereas the aluminum frames are available in a variety of finishes.
Here are your options for framed shower doors:
Regal: The Regal series is filled with options that are elegant and glamorous perfect for a modern glamour or traditional style. Complete with solid brass enclosures, these doors are decorative with mirror-like plated polished metal finishes, making them a great way to upgrade your bathroom decor.

Regal Hybrid: On the other hand, the Regal Hybrid is a unique combination of a framed and frameless shower door based on the client's wants. The most common combination is the Regal Framed and Majestic Frameless shower doors, but we can create any customization to fit your chosen aesthetic. These durable shower doors feature solid brass frames and solid brass pivot hinges and fit a more contemporary style.

Metropolis: These full-framed, state-of-the-art aluminum doors are perfect for those who prefer framed shower doors including a grid-style design. They are available in a variety of powder-coated and anodized finishes.
Key Takeaways:
GlassCrafters Inc. has been offering shower door installation in NJ, NY, Southern CT, Northern VA, Eastern PA, DE, and Washington DC for 25+ years!

You can choose from frameless, semi-frameless, and framed enclosures for your custom shower doors.
Contact GlassCrafters Today!
At GlassCrafters, we offer custom enclosures and design features to meet your needs and support all the latest design trends. We contact customers/homeowners for our distributors to schedule measuring and installation. Overall, if you are looking for bathroom shower door installation in the NJ, NY, Southern CT, Northern VA, Eastern PA, DE, or Washington DC area, GlassCrafters Inc. is here to serve you! Contact us today for a quote and more information.
Check Out Our Latest Installation Projects!
Regal Series™- multiple enclosures featuring micro-ribbed, low-iron glass, and polished nickel frame.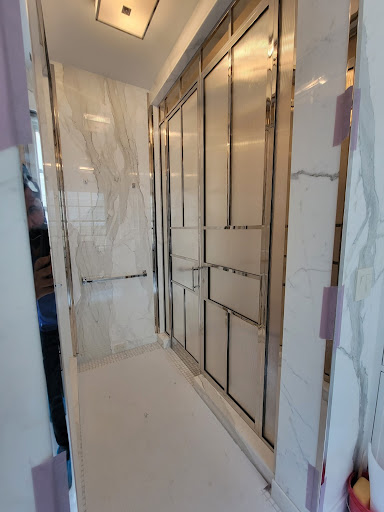 Regal Hybrid - shower enclosure with adjacent water closet featuring 1/2" low-iron and acid-etched glass and polished nickel minimal frame.