Regal Series Framed Shower Doors
TM
The Regal Series of framed shower doors offers hand crafted custom designed solid brass enclosures. Our mirror-like decorative plated finishes and unlimited decorative glass options complement classic designs. Solid brass shower frames are 1/8" wall thickness with a 5/16" Stainless Steel piano hinge adding to the strength and durability of the enclosure. Our designer staff will work closely with you to exceed your expectations.
Established in 1991 in Northern New Jersey, GlassCrafters Inc. has evolved over three decades into a premier luxury bath product manufacturer. With comprehensive services including Measurement, Delivery, and Installation, we take pride in delivering our top-tier products to clients across the country.
See a few of our customer reviews below: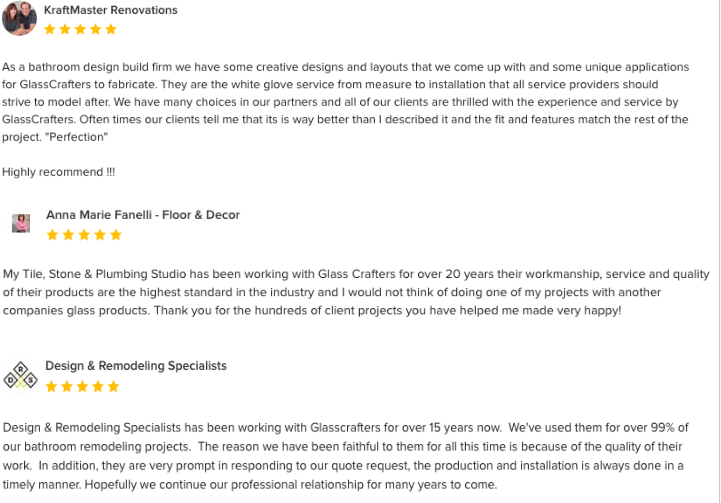 Features & Benefits
Solid Brass 1/8" frame shower door wall thickness
5/16" stainless steel piano hinge
Multiple decorative metal finishes for each framed glass shower door
Framed shower enclosure with glass options in 1/4", 5/16", 3/8" and 1/2" tempered safety glass
Available Finishes
GlassCrafters offers additional, non-standard finishes for this product in: 24k Brushed Gold Plated, 24k-Polished-Gold-Plated, Antique Brass, Brushed Copper, Oil Rubbed Bronze, Polished Copper.
Hardware Options
GlassCrafters has a variety of decorative hardware solutions available in multiple finishes. Choose from decorative knobs, robe hooks, clips, towel bars, and d-pull handles in styles designed to accent your decor. This perfect finishing touch installed by our expert team of technicians ensures a beautiful result.
Available Glass Types
Whether you prefer a rain pattern that mimics nature, the privacy of satin etched, or a dynamic reeded look, we know how important this decision is. That's why we offer one of the industry's largest selections of glass styles and designs. One is sure to be exactly what you are looking for to create a unique and beautiful environment.
Maintenance
Following some simple preventative maintenance will ensure years of worry-free function and beauty of our product.
Never use harsh, abrasive or ammoniated cleaners on hardware or glass. Use only mild cleaners (soap and water – dish soap) and soft cloths.
It is very important to maintain glass. Neglected glass will accumulate water spots that will eventually turn into mineral deposits. It is highly recommended to squeegee glass after each shower and use a surface protector, such as EnduroShield® (www.enduroshieldusa.com), to guard against the adhesion and build up dirt, grime, rust and mineral deposits. EnduroShield® offers the industry's best 10 year warranty.
These steps are recommended to keep your shower looking new for years to come. It is imperative that the squeegee is kept clean at all times to prevent scratches in the glass and to ensure proper function. It is also important to be very careful that any glass protectant that is used on the glass is not used or allowed to drip onto any hardware. Failure to follow these steps may void the warranty.
All sweeps, seals and wipes are made from clear polycarbonates, which are highly resistant to drying, cracking and discoloration.
Our sealant is a super-clear aquarium grade sealant designed to withstand extreme conditions and temperatures. Its composition is designed to provide exceptional clarity and remain flexible with no shrinking, cracking or yellowing.
SAFETY CODES: All glass installed by GlassCrafters meets all ASTM 1048 tempered and 1172 laminated safety codes complying with Class 1 clear, quality q3 glazing select, conforming to cpsc -16cfr-cat 1 & 2.