Updated On:
December 15, 2021
Whether you're installing a new medicine cabinet or upgrading the one you've had for a while, it's a great way to update your bathroom. Depending on which medicine cabinet design options you choose, it can not only add value to your property but also make your cleaning and disinfecting faster and easier. Designer medicine cabinets are great ways to make your bathroom more stylishly beautiful and functional. At GlassCrafters' we offer framed, frameless, electric, and full-length luxury medicine cabinets. Want to learn more? Here are the benefits of each!
Medicine Cabinet Design Benefits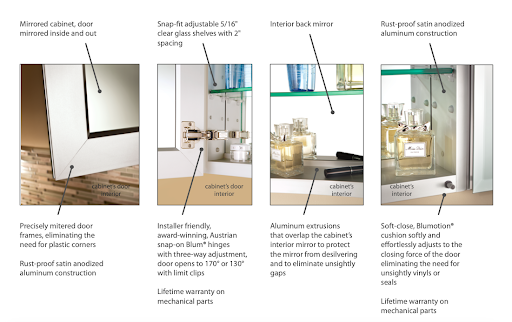 High-Quality
GlassCrafters' designer medicine cabinets offer you the craftsmanship and exquisite quality you've come to expect from our company. We're dedicated to supplying a quality product that's made to last. Our versatile offerings on mirrored medicine cabinets include framed, frameless, electric, and full-length styles to perfectly fit into your bathroom space.
Value
Your luxury medicine cabinet design options will increase the resale value of your home. You will improve the aesthetic look and feel of your bathroom. After all, your bathroom space is something you use and experience every day. You must invest in a quality solution that will work for you for your present and future needs.
For added value, you can store your grooming products in one place! The mirrored cabinet storage accessories come standard with all 24", 30", and 36" H medicine cabinets. We also offer a depth option of 4" or 6" for you to choose from. GlassCrafters' storage accessories provide the convenience and organization you need, and eliminates clutter in your bath space at the same time!
Functionality
Our mirrored medicine cabinet products support superior functionality. Our medicine cabinet options are designed and manufactured to stand up to everyday, regular use. Features include:
Aluminum extrusions overlap the cabinet's interior mirror to protect the mirror from desilvering and to eliminate unsightly gaps

ETL certified Electrical Option cabinets

Defogger and interior illumination

Mirror has sealed edges to prevent corrosion

Mirrored cabinet, door mirrored inside and out

Precisely mitered door frames, eliminating the need for plastic corners

Rust-proof satin anodized aluminum construction

Snap-fit adjustable 5/16" clear glass shelves with 2" spacing

Soft-close, Blumotion® cushion softly and effortlessly adjusts to the closing force of the door eliminating the need for unsightly vinyl or seals

Installer-friendly, award-winning, Austrian snap-on Blum® hinges with three-way adjustment, the door opens to 170° or 130° with limit clips

Cabinets available recessed, semi-recessed, or surface-mounted

Left or right hinge

Cabinets can be combined horizontally or vertically

Includes 3X magnification mirror and specialized storage accessories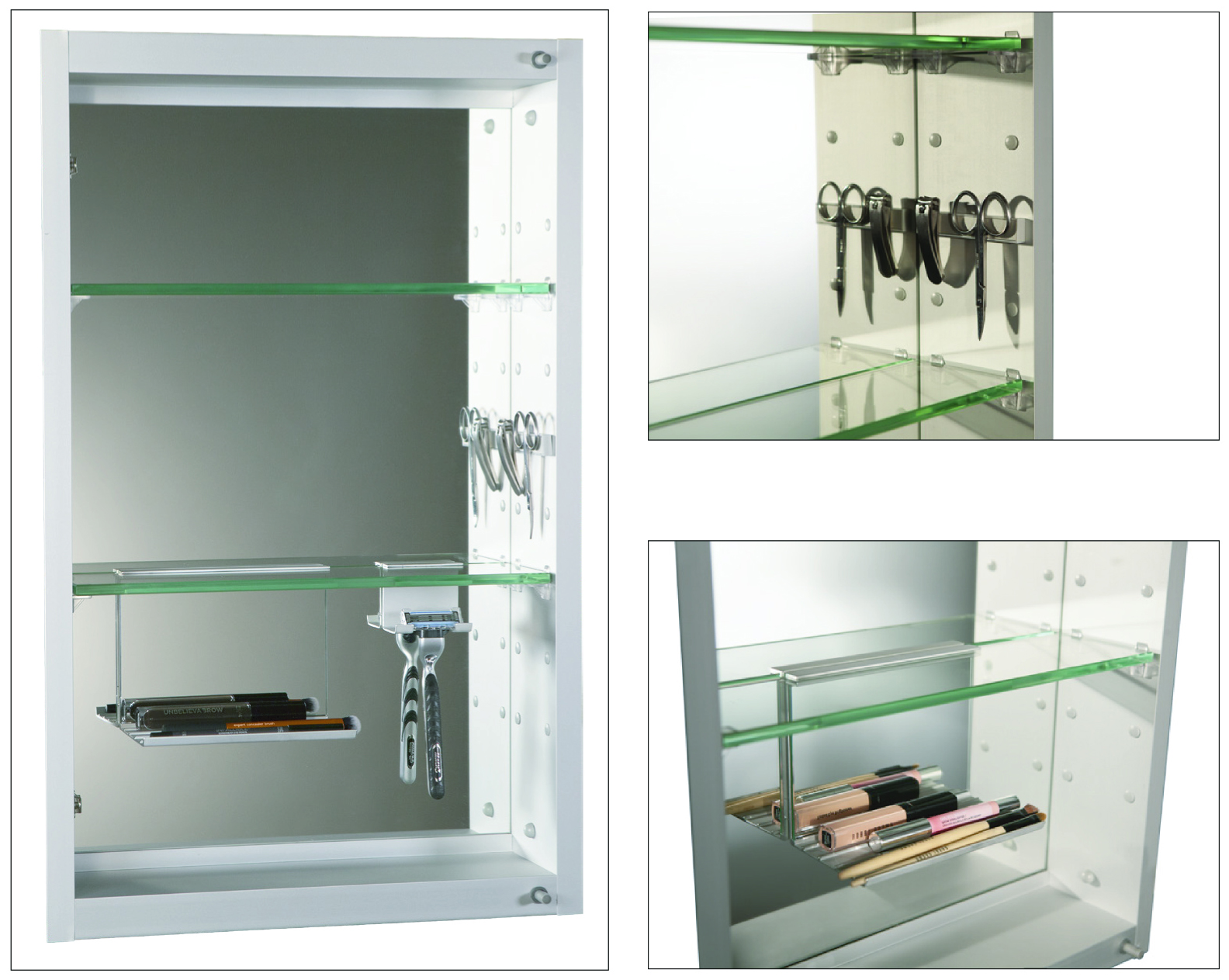 At GlassCrafters, we offer convenience that's all about enhanced organization and functionality. We know how important it is to support your daily health care and skincare routine. You can easily store your cosmetics, razor, metal tweezers, and other daily grooming product essentials.
Style
You might wonder, are medicine cabinets out of style? Our framed, medicine cabinet design options support a range of aesthetic choices to reflect your preferred style and design requirements. We offer a variety of frame designs with plated polished chrome and nickel finishes, ideal for matching faucets. With our range of custom medicine cabinet options, you can find a beautiful and functional solution that will perfectly accent your bathroom or other room in your house.
Competitively Priced
The pricing for our medicine cabinet can vary depending on the size and orientation of your bathroom, whether it's a new installation or a replacement, and which options you select. Our goal is to offer a high-quality and reliable design solution that's perfect for your needs, at a competitive price. We also offer a lifetime warranty on mechanical parts!
Takeaways:
GlassCrafters'

designer medicine cabinets

offer you superior craftsmanship and exquisite quality.

Designer medicine cabinets

are great ways to make your bathroom more stylish, beautiful, and functional.

Our medicine cabinets support a range of aesthetic choices to reflect your preferred style and design requirements.
Contact GlassCrafters Today!
Ready to add a medicine cabinet to your bath space? Visit our website to learn more about our medicine cabinet options such as framed, frameless, electric, and full-length. We guarantee our products will leave you satisfied. Contact us today to see how our medicine cabinets can help you!