Updated On:
February 22, 2022
Glass railing systems are just one of the architectural glass services we're able to offer at GlassCrafters Inc. With more than 20 years of experience in the industry and an unparalleled level of service, we create works of art for residential and commercial spaces. We offer the right custom glass solutions to fit into your design aesthetic, planning stage, and installation timeline. In this blog, we'll take a look at our architectural glass services and some of the glass railing projects we've completed.
Designing
Glass Railing
for Decks and Stairs – What You Should Consider
Our team of experts puts together amazing exterior glass railings and interior glass railings, with lots of options for you to choose from. For your design and installation process, we are the partner you need with the years of experience and knowledge you can count on for your custom project.
Our talented team is standing by to incorporate all the design considerations that will sync with your professional aesthetic. We consider which of our customized glass products will meet your functional requirements while representing the durable quality you've come to expect.
Glass Railing Quality
GlassCrafters regularly works with corporate and residential clients to deliver a convenient, high-quality, and turnkey experience. From start to finish, we offer glass products that fit in with the space, with the right delivery options, design, installation, and even size. We're here to assist you with glass railing systems that are architectural glass solutions and artistic works of art.
We maintain the highest quality standards of excellence for our custom glass solutions, with unmatched service and support in the industry. For our commercial clients, we're able to turn a standard showroom into an immersive and beautiful space that everyone will remember. For our residential clients, we offer unique, beautiful custom solutions that are perfect for your home.
Projects We've Completed
Cresskill Home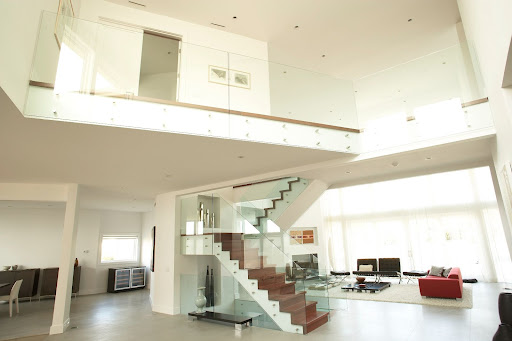 For this residential project, we used our glass capabilities and custom fabrication techniques to create the perfect glass railings.
Mercedes Benz Dealership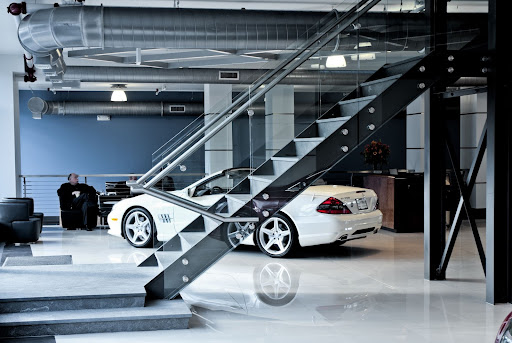 For this commercial project, we created these amazing glass railings for Mercedes Benz by using our stair rail and tread systems.
Architectural Glass Railing Solutions We Support
If you need a unique architectural design solution for your commercial or residential space, GlassCrafters has you covered! We offer unique, customized glass products that can be specifically designed for your needs, whether you're an architect, business owner, designer, contractor, or homeowner.
Commercial and residential glass solutions we support:
Commercial Glazing

Stair Rails

Room Dividers

Laminated Glass Capabilities

Terraces

Store Fronts
Next Step: Contact GlassCrafters Today!
We recommend you reach out to our team at GlassCrafters to determine your specific needs and how we can be of assistance with your glass railing needs. We'll discuss the architecture design requirements and offer suggestions for the solutions that will work best for you. We want you to love how your glass railings will look and feel, but we also want our glass solution to meet your functional needs. Call us at (800) 233-7362 today!