Created to simplify your to-do list and help your bathroom shine daily, EnduroShield® is the bathroom beautifier that you didn't know you needed. Check out the various ways in which EnduroShield® will change the way that you clean!
What Is EnduroShield®?
EnduroShield® is a one-of-a-kind cleaning solution that makes it easier than ever to maintain a pristine shower enclosure. It is an invisible shower glass coating that stops your shower from permanently accumulating scum, grime, and more potentially damaging substances. EnduroShield® offers users numerous long-term benefits such as reducing users' bathroom cleaning time by up to 90%.
How Does Enduroshield Protect Your Shower?
EnduroShield® is a long-term solution to help users enjoy a spotless bathroom with an easier cleaning solution. Part of the magic is its capacity to deliver stunning results for up to 10 years after application and permanently bond to shower glass. EnduroShield® makes cleaning easier, by creating a protective barrier that stops contaminants from soaking into the glass. Instead, contaminants, such as soap scum, grime, limescale, stains, and etching bead up on top of the coating making for a seemingly easier cleaning solution. Made with non-toxic, environmentally-friendly ingredients, it's 100% safe to apply to your bathroom's new and existing surfaces.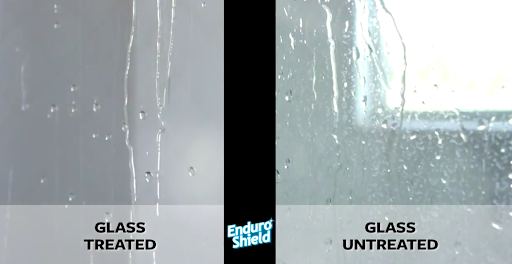 Exceptional Warranty for Complete Customer Satisfaction
In addition to fantastic protective power and its environmentally-friendly formulation, EnduroShield® also comes with an incredible 10-year warranty. Users receive online warranty registration information featuring a unique code that confirms the warranty, effectively protecting their investment for up to a decade. EnduroShield's ability to protect bathroom surfaces for up to 10 years is based on a 10-year simulation of normal use that is certified by TÜV Rheinland.
Key Takeaways:
EnduroShield® delivers stunning results for up to 10 years.
EnduroShield® is non-toxic and made with environmentally friendly ingredients.
EnduroShield® can reduce users' cleaning time by 90%
Partner With GlassCrafters for Outstanding Quality and Performance
Founded in 1991 in New Jersey, GlassCrafters is a leading manufacturer and installer of luxury custom shower enclosures, glass shower doors, sliding shower doors, and custom bath enclosures. GlassCrafters even provides luxury custom frameless shower enclosures, luxury mirrored cabinets, and custom mirrors. Browse GlassCrafters' extensive gallery of exceptional products and services today for ideas about revolutionizing your bathroom and home. To learn more about GlassCrafters' stunning offering -- including EnduroShield® protection -- simply call (888) 683-1362 or fill out this quick contact form.