Updated On:
January 2, 2022
GlassCrafters Inc. has provided clients with stylish and innovative bathroom products to fit any aesthetic. However, we've found that many homeowners throughout the United States tend to lean towards a sophisticated style of a modern or contemporary aesthetic. Ready to create your dream contemporary bathroom? Here are some of the top GlassCrafters products to choose from to help you do just that!
Top GlassCrafters Products For A Contemporary Style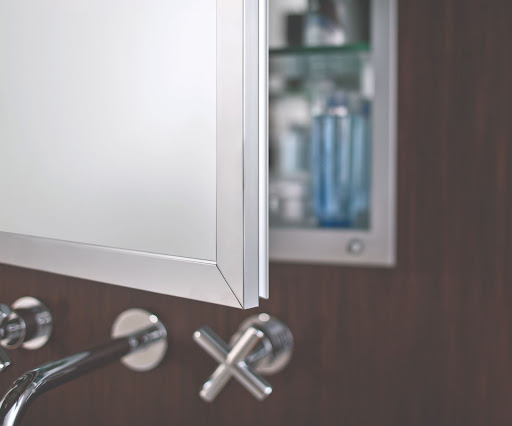 We carry a wide range of modern medicine cabinets designed to bring a sleek look to a common bathroom accessory. Our contemporary medicine cabinets provide full practical functionality with clean and simple lines.
Frameless Flat Mirrored Cabinets

- Our frameless cabinets look great with any type of decor and provide superior utility and versatility. They can be combined vertically or horizontally, and installed on the surface of the wall, or recessed for a built-in appearance.

Tri-View Cabinets

- Our tri-view cabinet is the solution when a larger mirror or more storage space is needed. It is available in both flat and beveled mirror options and has a variety of wall mounting options.

Framed Mirrored Cabinets

- For those who prefer a more portrait-like look, we offer a full lineup of framed mirrored cabinets. For a contemporary aesthetic, we suggest the

Soho

or

Lexington

mirrors given their spacious, sleek, and luxurious look. To help fit with your sense of style, our mirrors are offered in seven finishes; Polished Chrome, Polished Nickel, Satin Brass, Iron-Black Matte, Brushed Nickel, and Brushed Bronze.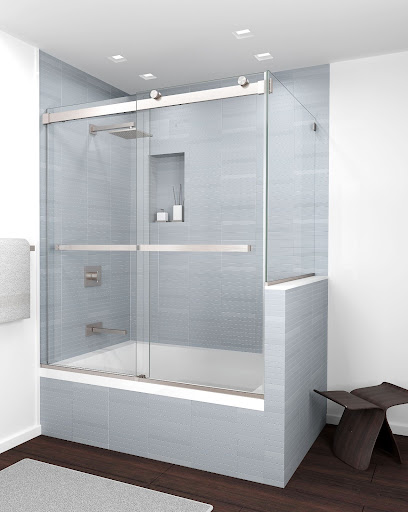 The shower space in any bathroom is arguably the first thing that catches the eye and is therefore crucial to effective contemporary decor. We offer a full range of one-of-a-kind original frameless shower door creations, perfect for a contemporary style.
Equalis Series™
The Equalis Series™ fits perfectly with a contemporary aesthetic given its solid aluminum track and stainless steel accents. To help you fit your personal style we offer the following finishing options; Polished Stainless Steel, Brushed Stainless Steel, Iron-Black (matte), Polished Chrome Anodized, or Oil Rubbed Bronze.
Acero Series™
The Acero Series™ is another wonderful high-quality shower door that fits a contemporary aesthetic. It has built-in adjustability to fit many wall conditions and has a range of glass sizes available to complement your tub or shower stall opening. This truly frameless sliding door is also supported by a rectangular stainless steel rail. Finish choices for the rail include Brushed Stainless Steel, High Polished Stainless Steel, Iron-Black (matte), and Oil Rubbed Bronze.
Key Takeaways:
The Soho and Lexington framed mirror cabinets are great choices to fit a contemporary style given their sleek and spacious look.

The Equalis Series™ and Acero Series™ are great frameless shower door options to fit a contemporary style.
At GlassCrafters Inc., we take pride in the quality and excellence of our products. Our highly trained, skilled, and experienced craftsmen strive to create the highest quality products. We have become an industry leader by consistently providing superior work and customer service. If you're looking to create a contemporary style for your bathroom, GlassCrafters Inc. is ready to make your dreams come true! Contact us using our convenient online form.