Updated On:
June 30, 2021
With over 20 years of valuable experience serving customers nationwide, GlassCrafters Inc. is one of the top shower door hardware manufacturers in the United States. A broad range of customers, architects, and designers rely on GlassCrafters' unrivaled industry expertise, exceptional customer service, and stylish glass products to turn shower door dreams into a reality! We specialize in high-end shower door hardware like the Equalis Series™ shower door. The following information provides an in-depth look at the various benefits of GlassCrafters' Equalis shower door.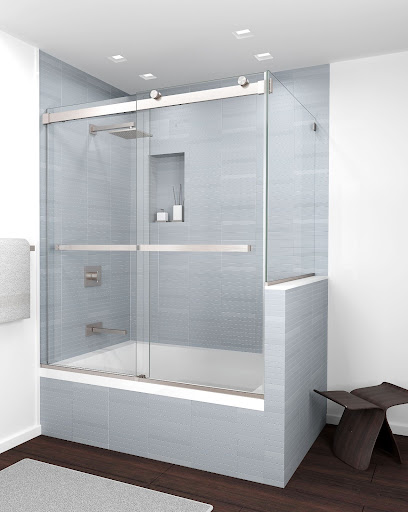 Function Meets Form
The Equalis Series™ shower door is in a class of its own, promising tried-and-tested hardware that is built to last, paired with elegant custom-made designs. The frameless bypass shower door design of the Equalis shower door is functional, timeless, and ultra-modern. Moreover, the Equalis shower door is manufactured using only the highest quality materials. All glass that is used and installed by GlassCrafters, including the Equalis and Regal shower doors, meets international safety standards.
The Equalis is offered with 3/8" Cleartek™ (low-iron) or Standard Clear tempered safety glass. Cleartek™ glass is exceptionally clear glass with considerably less visible color than ordinary glass. Both the Cleartek™ and the Standard Clear tempered safety glass are equipped with the EnduroShield­® protective glass coating which prevents mineral deposits, dirt, and grime from adhering and building upon your crystal clear shower door. Enduroshield® offers a 10-year warranty on "easy-to-clean" shower doors.
Stylish, Modern Design
The fully reversible design ensures hassle-free installation with an opening either to the left or to the right. The shower doors glide with ease and are fitted on a sturdy aluminum track with stainless steel cladding. All shower doors come with standard stainless steel rectangular towel bars. That being said, there are several other options available if these do not suit customers' specific needs.
When choosing their Equalis Series™ shower door, customers have the choice of any of the following hardware finishes: polished stainless steel, brushed stainless steel, iron-black matte, or polished chrome anodized. High-quality vinyl shower door bumper guards are also included with each shower door. The Equalis Series™ shower doors are all fitted with a continuous curb dam, which allows for improved water deflection. Exceptional custom design paired with durability and functionality is guaranteed with each Equalis Series™ shower door.
Long-Lasting Performance and Durability
In addition to the Equalis Series™ shower door's appealing style and practical design, it is also highly durable, thanks to its Enduroshield® protective coating.
Enduroshield® is a clear coat that protects the Equalis Series™ shower door from harmful substances like bacteria, mold, grime, and much more. Better yet, Enduroshield® is designed to protect surfaces like glass for up to 10 years. Thanks to this preventative coating, customers can save significant cleaning time that would have been spent cleaning scum, grime, and stains. In fact, Enduroshield® can reduce users' bathroom cleaning time by up to 90%.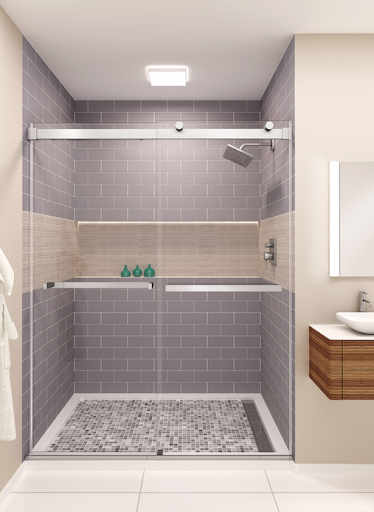 Takeaways:
GlassCrafters' Equalis Series™ shower door simultaneously delivers elegant style and practical function
Equalis Series™ shower doors feature Cleartek™ glass, which is considerably clearer than standard glass shower doors
Enduroshield® invisible coating protects the Equalis Series™ shower doors from dirt, grime, mold, and more for up to a decade
Trust GlassCrafters' Experienced Professionals
Serving communities across America since 1991, GlassCrafters is proud to provide top-notch custom shower enclosures, glass shower doors, and sliding shower doors. GlassCrafters even offers custom bath enclosures, luxury mirrored cabinets, and custom mirrors. Learn more about the Equalis Series™ shower door or GlassCrafters' vast range of bathroom appliances by calling (888) 683-1362 or filling out this quick contact form today.