Updated On:
June 16, 2021
When it comes to designing a classy, modern, and functional bathroom, the perfect shower door can transform any project. The right shower door will provide seamless functionality and trendy appeal daily. As an innovative leader in high-quality glass design for bathrooms and homes alike, GlassCrafters is proud to offer a wide range of unique shower door options -- such as Iron Matte Black framed shower doors -- that are sure to enhance your bathroom and beyond. The following article dives deeper into the benefits of installing a Metropolis shower door in your bathroom.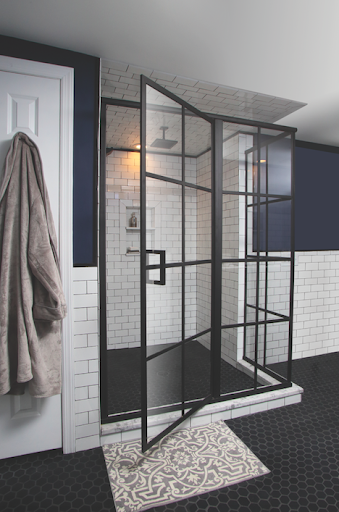 What Is a Metropolis Series Shower Door?
GlassCrafters' Metropolis series shower door is a fantastic choice for architects who are seeking to transform their bathroom project into an unforgettable oasis. With a simultaneously retro yet modern style, the Metropolis shower door instantly elevates your bathroom and gives your home an elegant touch.
Metropolis' fully-framed, state-of-the-art, grid design will suit a retro feel while delivering modernistic function. Constructed with aluminum mullions finished in powder-coated oil rubbed bronze and iron-like, Matte Black. It's offered with 1/4" thick standard Clear, Starphire (low iron), or Acid Etched (frosted) tempered safety glass.
Visually, the Metropolis shower door features geometric patterns of glass surrounded by an Iron Matte Black (The enclosure is not composed of individual panes of glass. There are one or more pieces of glass, depending on the layout, which we adhere to grids (mullions) on both sides of the glass via VHB double stick tape and black silicone). Your guests won't soon forget this unique detail that appeals to the eye and makes routine showering a delight. With a seemingly endless supply of shower doors at your disposal, choosing the perfect one for your bathroom can be a daunting task. However, the good news is that by choosing GlassCrafters' Metropolis shower door, you're guaranteed to receive outstanding quality and style.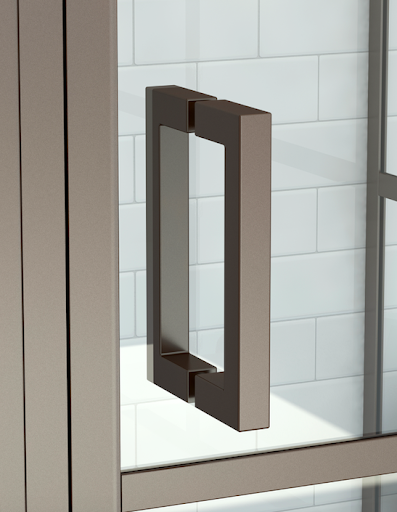 Modern Style Meets Practical Functionality
GlassCrafters' Metropolis shower is an exquisite combination of classic style and outstanding functionality. The Metropolis shower door is reminiscent of Tudor window architecture, concerning its remarkable glass panes elegantly framed in a perfectly symmetrical, geometric grid pattern. This 18th-century European design is beautifully punctuated with black metal finishes that imitate Renaissance-era embellishments. Matched with hard-edge detailing, black metal frame shower doors put the finishing touch on this magnificent work of art, expertly designed for everyday use. While the Metropolis shower door is a masterpiece in and of itself, it also complements a wide variety of existing decors. Traditional, Transitional, and Art Deco designs can all be enhanced with this historic, yet modern, Metropolis shower door.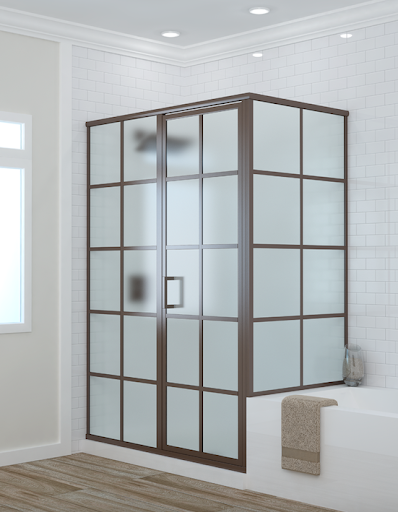 Elegant Craftsmanship That Makes a Lasting Impression
When you choose a Metropolis Series shower door, you are guaranteed to receive an expertly designed and crafted piece of art that's made to last. The Metropolis shower stands out from the competition for multiple reasons. Available in assorted finishes, including matte black, oil rubbed bronze, brushed nickel, as well as, with custom finishes applied to aluminum or brass hardware, it's made with impeccable artisanal skill and attention to detail that delivers a fully enjoyable showering experience every time. Forget leaks, loose doors, and haphazardly assembled panes -- the Metropolis shower door is carefully assembled by experts to provide outstanding results for years to come.
Key Takeaways:
The Matte Black metal frame on the shower doors adds the finishing touch to this magnificent work of art.
The Metropolis Series shower door is expertly designed for everyday use.
With Metropolis Series shower doors you are guaranteed to receive an expertly designed and crafted piece of art that's made to last.
GlassCrafters Delivers Exceptional Quality, Every Time
Established in 1991 in New Jersey, GlassCrafters is a family-operated business composed of passionate, knowledgeable individuals. GlassCrafters offers luxury custom shower enclosures, glass shower doors, sliding shower doors, custom bath enclosures, and even custom mirrors. With an unwavering dedication to superior design, functionality, and durability, GlassCrafters seeks to deliver impeccable quality with every sale. Take a look through our extensive range of high-quality products such as our black metal frame shower door and other options within our gallery. To learn more about GlassCrafters' selection of products, simply fill out this short contact form or call (888) 683-1362 today. Unforgettable designs await you!